Report on Jobs in Dorset – April 2018

May 11, 2018
We've rounded up the key points from IHS MarkIt and REC's April report on
Jobs in Dorset & the South of the UK.
Sharper increase in permanent placements, contrasts with slowdown in temp billings
Steeper falls in both permanent and temp labour supply
Starting salaries rise sharply, while temp pay inflation accelerates to near 20-year high
REC director of policy Tom Hadley says:
"Following the recent headlines about high street closures, it's unsurprising to see demand for retail staff falling this month. With consumers increasingly shopping online, it's a good time for retail workers to think about how their skills translate into other areas within the business – for example, recruiters say there's huge demand for staff in IT, and there is also a shortage of order pickers and packers. Helping people make career transitions will become increasingly important in this fast-changing business and employment landscape."
"Demand for staff is still on the rise in every other sector, but the no of candidates looking for jobs [in Dorset and the South region overall]  keeps dropping. Our data shows that employers are paying more to attract the right people into their vacancies. For individuals, now is a good time to look for a new job, as you are in a strong position to negotiate higher pay.
"For employers, the challenge is to stay ahead of the competition to maintain and enhance your workforce. This is about more than just pay, it is about providing progression opportunities and a positive workplace culture. As recruitment gets harder the only solution for employers is to get better at attracting and retaining the right skills and staff."
Permanent placements continue to rise sharply
Recruitment firms based in the South of England signalled a further increase in the number of people placed into permanent positions during April. Permanent placements have now risen in each of the past 21 months, with the rate of expansion slightly sharper than that seen in March. Growth was also steeper than that seen at the national level.
Steeper fall in permanent labour supply
April survey data pointed to a further sharp drop in the availability of permanent candidates looking for jobs in the South of England. Notably, the rate of deterioration quickened since March and was the steepest of all five monitored UK localities. A number of skill shortages were reported in the latest survey period, including accountants, engineers, home carers and solicitors.
---
Key permanent staff skills reported in short supply:
* Accounting/Financial: ACA, Accountants, Actuaries, Audit, Credit Controllers, Estimators, Finance, Financial Planning Administrators, Paraplanners, Part-qualified Accountants.
View our Accountancy jobs in Bournemouth area
Blue Collar: Drivers, Forklift Drivers, LGV Drivers, C + E Drivers, Metal Workers, Skilled Manufacturing Workers, Unskilled Manual Workers, Vehicle Technicians.
Construction: Quantity Surveyors, Sales, Town Planners.
Engineering: Aerospace, Aviation, Civil Engineers, Engineers, Quality Engineers, Manufacturing Engineers, Process Engineers, Technicians. View our  Engineering jobs in Bournemouth area
Executive/Professional: Business Analysts, HR, Marketing, Project Managers, Retail Business Analysts, Solicitors.
Hotel/Catering: Catering, Chefs, Hospitality, Hotel Receptionists.
IT/Computing: Automated Testing, CAD, C#, Data, DevOps, Digital, IT, Java, Oracle Fusion, Ruby, Software Engineers, Technology.
Nursing/ Medical/Care: Care Workers, Healthcare Assistants, Home Carers, Registered Home Managers, Sonographers, Support Workers.
Secretarial/Clerical: Administration, Office Staff.
View our Administration jobs in Bournemouth area
Other: B2B Sales, Buyers, Eastern European Language Speakers, Sales, Property Managers, Senior Buyers, STEM Teachers, Supply Chain, Technical Sales. View our Sales jobs in Bournemouth area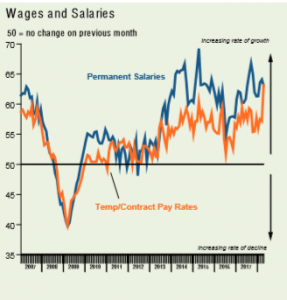 Permanent salaries
Starting salaries awarded to newly-placed permanent workers in the South of England continued to increase in April. According to panellists, strong demand for staff and lower candidate availability had pushed up salaries. Despite easing since March, the rate of inflation remained sharp and was the steepest of all five monitored UK regions.
REGIONAL COMPARISON
Staff appointments
Permanent staff placements in the UK rose at a softer rate in April, due to weaker increases in London and the Midlands. The latter, nonetheless, was on top of the rankings on this front. Elsewhere, rates of expansion accelerated. Temp billings at the UK level grew at a stronger pace than noted in March. Rates of expansion picked up in the capital and Scotland, with the latter leading the upturn on a regional basis. Softer rates of increase were evident elsewhere.
Candidate availability
Permanent candidate supply, or the no. candidates looking for jobs [in Dorset] continued to drop in a broad-based fashion, with decreases registered in each of the five monitored localities. The most pronounced reduction was, once again, seen in the South of England. Sharper falls in temp labour supply were evident in all UK regions bar the North of England, where a moderation was recorded. For the fourth month in a row, the quickest decline in jobseekers for temp positions was noted in the Midlands.
Pay Pressures
Starting salaries for people undertaking permanent positions in the UK rose at a slightly quicker pace at the start of the second quarter. The uptick reflected stronger increases in three of the five monitored regions (London, Scotland and the Midlands). Nonetheless, it was in the South of England that the sharpest rate of salary inflation was recorded.