Job Market Report – February 2018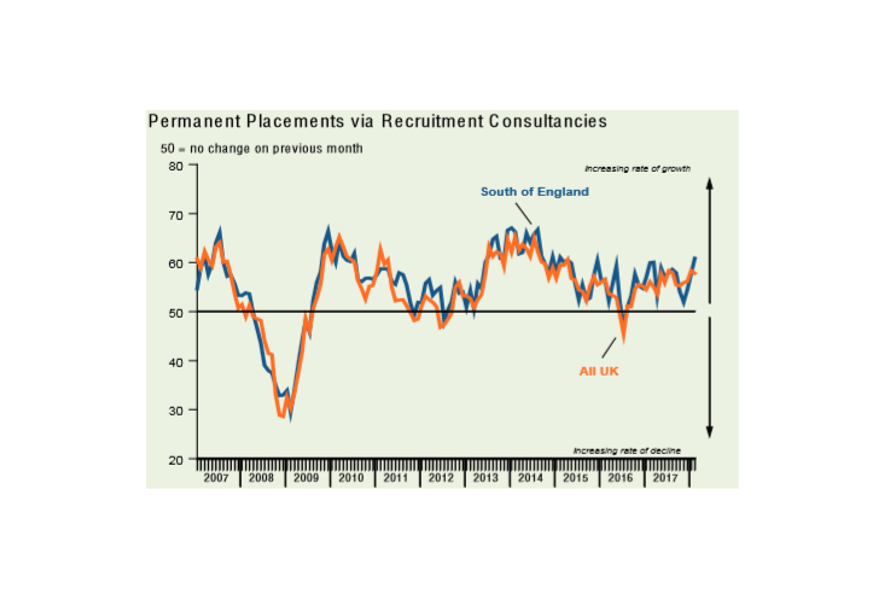 March 12, 2018
The latest report on Jobs in Dorset and for the South of the UK has arrived from
IHS Markit and REC.
Starting Salaries reach 4-month high in South
Key points from February survey:
Steeper increase in permanent placements contrasts with softer temp billings growth
Deterioration in overall candidate availability eases slightly, but remains marked
Starting salaries and temp pay both increase at sharper rates
Kevin Green, REC Chief Executive says:
"Even with employer uncertainty, demand for staff continues to rise. At the same time candidate availability is still dropping, which means that employers in all sectors are struggling to recruit for the roles they desperately need to fill.
"Employers need to make their jobs attractive to candidates to attract talent and skills to their organisation. Increasing starting pay is a good step, but it isn't enough. Businesses need to focus on creating a great culture and investing in their people. The opportunity for development and the ability to progress are key for people looking to move job.
"Government has a critical role to play. Post-Brexit, we will continue to need people from the EU to work in UK institutions like the NHS, and this needs to be as easy as possible without unnecessary cost or bureaucracy. We also need to develop skills across all sectors of the economy and the best way to do this is by broadening the apprenticeship levy into a wider training levy."

---
Permanent placements growth accelerates to three-year high
Recruitment consultancies based in the South of England signalled the steepest rise in permanent staff placements for three years in February. Notably, the pace of expansion was faster than the UK-wide average for the first time since last September.
Softer fall in permanent labour supply
Recruitment consultancies in the South of England continued to signal a sharp decline in the availability of permanent candidates during February. This was despite the rate of deterioration easing to its least marked for seven months. Notably, the reduction was the second-fastest seen of all five monitored UK regions (behind Scotland).
---
Key permanent staff skills reported in short supply:*
Accounting/Financial: Credit Controller, FP & A, Insurance, Paraplanners,
Blue Collar: Blue Collar, C + E Drivers, Drivers, Forklift Drivers, Skilled Workers, Vehicle Technicians, Warehouse Workers, Welders.
Construction: Architecture, Surveyors, Town Planners.
Engineering: Automotive, Civil, CNC, Design, Electrical, Engineers, Industrial, Managers, Mechanical, Mechatronics, Service, Technicians.
Executive/Professional: BI & Data Analysts, Corporate & Property Solicitors, Marketing Managers, Project Managers.
Hotel/Catering: Chefs, Hospitality.
IT/Computing: Cyber & Digital Transformation, C#, DevOps, Infosec, IT, Java, .NET, Oracle Fusion, PHP, Salesforce, ScrumMasters, Software Developers/Engineers, Web Developers.
Nursing/Medical/Care: Care Workers, Healthcare Assistants, Home Carers, Life Sciences, Nurses, Support Workers.
Secretarial/Clerical: Administration.
Other: B2B Telesales, Client Services, Education, Junior Level Candidates, Languages, Media Sales, Packaging Buyer, Sales, Supply Chain Admin, Technical Sales.
---

Permanent salaries
Inflation of salaries awarded to new full-time staff in the South of England accelerated to a four-month record and was sharp in February.
Just over one-third (34%) of panellists recorded higher starting salaries, with a number of recruiters suggesting that pay rose in response to skills shortages. Notably, the rate of increase was the quickest of all five monitored UK regions.
The Report on Jobs South is one of five regional reports tracking labour market trends across England.
Data are also available for London, the Midlands, the North of England and Scotland.
Staff appointments
Permanent staff appointments in the UK as a whole increased at a weaker rate in February than it did in the prior survey period. The slowdown reflected softer expansions in Scotland, London and the North of England. By comparison, growth in the Midlands and the South of England accelerated.
Temp billings continued to expand in a broad-based fashion, with growth sustained in all five monitored regions. The rise was, once again, led by the Midlands. At the UK level, the latest increase was sharp and quicker than in January.
Candidate availability
Permanent candidate numbers decreased in each of the five UK regions tracked by the jobs survey, as has been observed on a monthly basis since July 2013. During February, the steepest fall was seen in Scotland, and the slowest in London.
The weakest contraction in temp labour supply was also evident in the capital, but the fastest in the Midlands. At the UK level, the availability of candidates willing to undertake short-term positions deteriorated in February for the fifty-sixth straight month.
Pay Pressures: Salaries reach 4 month high in South
Rates of permanent starters' salary inflation moderated in four out of the five monitored localities, the sole exception being the South of England where the latest increase was the most pronounced since October 2017 and the strongest on a regional basis.
Faster increases in temp pay were registered in all regions bar the North of England. The quickest rise was recorded in the capital, where the rate of wage inflation climbed to a three-year peak.
Source:
Thanks as always to IHS Markit for providing this data
Related Dovetail Blogs:
Employment Market Report: South – Jan
Do you have a candidate Attraction Strategy?