Handmade Christmas Decorations
December 9, 2022
Looking for ideas for handmade Christmas decorations? Look no further! We have some ideas and further links for you to investigate!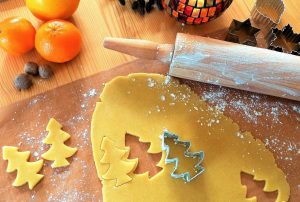 If you're looking for something edible, why not bake some Christmas cookies? Then simply make a small hole in the top, hang with some string on the Christmas tree and voila! Yummy ornaments! Here are some recipe's for some festive gingerbread: https://www.bbcgoodfood.com/recipes/collection/christmas-gingerbread-recipes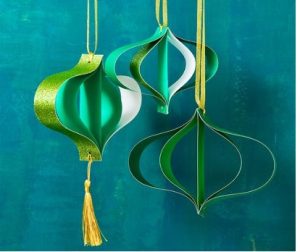 Good Housekeeping have a very pretty and classic idea. All you will need is a ruler, hole punch, string and some pretty paper!
"Make colored cardstock multi-dimensional and super chic. To create this ornament, cut out five strips of paper: two 1.25″ x 10″, two 1.25″ x 7″ and one 1.25″ x 5″. Then punch a hole 1/4″ from the top and bottom of each strip. Stack the papers together with the smallest in the middle sandwiched by the medium strips, followed by the largest strips. Line up all of the strips on one end and thread a piece of string or wire through the holes and tie it off. Repeat this step on the other end of the strips, which you can then fan out. Add tassels or beads to the bottom of the ornament for extra sparkle." https://www.goodhousekeeping.com/holidays/christmas-ideas/g393/homemade-christmas-ornaments/?slide=3
Hobbycraft have a wonderful selection of hanging decorations to make yourself. Leave them blank and write with a sparkly sharpy pen or paint away the day! Here's a link for the blanks https://www.hobbycraft.co.uk/christmas/christmas-decorations/blank-decorations/?prefn1=Material&prefv1=Ceramic&prefn2=Product%20Type&prefv2=Christmas%20Decorations
The Works have lots of wooden bases to decorate. Our favourite is this little scene that you can paint or even leave blank – https://www.theworks.co.uk/p/wooden-crafts/decorate-your-own-festive-wooden-village/5052089276918.html
Not feeling like putting up an entire Christmas tree? Why not go out for a walk into the forest, and search for a big stick with lots of branches. Get a plant pot to use as the base, ideally one with soil, but you could fill with anything, stones, sand, even rice! Paint your stick silver, gold, red, green, whatever you fancy! And then you can add your own decorations, whether they're handmade or not! Here's more on the how: https://www.ehow.com/how_6733528_make-twig-tree.html
Got a glue gun? Why not gather some more twigs and hot glue them together in the shape of a star? You could a little central decoration – could be a button, a bell, a bow, some ribbon – get creative!
Hawthorn have some great Chirstmas crafts including needle felting baulbauls and robins! Get crafty and check it out. They also make fantastic gifts for your family! (Speaking from experience) https://www.hawthornhandmade.com/collections/creative-christmas/products/animal-christmas-baubles-needle-felting-kit
Finally, to get that wonderful Christmas smell, why not make some Christmas Potpourri! Here's a great receipe for you to try. https://www.flavourandsavour.com/make-your-own-simmering-holiday-potpourri/