Finding the Perfect Fit for 9 Years
July 28, 2017
Dovetail are delighted to be celebrating our 9 year Anniversary this month

From humble beginnings back in 2008, when Liz set up on her own in a spare room at the back of a friend's business with just the yellow pages, a laptop and phone – now look where we are!
Over to Liz -:0)

" I can't believe how we've come in nine years, and it's fitting that we've had a super few months too – having just exceeded our quarter one target for this year. Everyone has done so well over the last few months and I'm thrilled that we have such a real team spirit, which is supportive and collaborative. I truly think this is the reason we have done so well.

Thank you for my card and flowers team – 9 years where has that time gone. I can honestly say I have the best team ever."
How things change in 9 years!
We now have offices in the envious location of Hengistbury Head, where Liz has built up a growing team of specialist consultants that work across:
Senior & Executive, Sales & Marketing, Finance & Accounting, Engineering, Technical & Procurement and HR & Administration.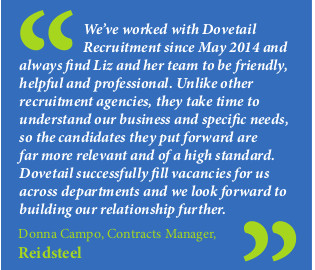 Taking on new clients all the time – we take a personal and professional approach to matching candidates and clients. We pride ourselves on building long-term partnerships with clients, including:
The Solent Group, Comax, Kondor, Reidsteel, Hamworthy Heating and Linwood Fabrics to name a few.
Combining loyalty, passion and dedication to deliver the best service we can, Dovetail Recruitment find the perfect fit for both our clients and candidates.
Related Dovetail articles
Never give up – dedication is rewarded
Dovetail news – on the up!